The difference between success and failure is a great team! If you're looking for a team building option that isn't about lectures and coffee breaks, look no further than Bubble Bump SG!
Bubble Bump SG specialises in Bubble bump sports which helps to strengthen team cohesion. Be it a new hire orientation or team cohesion, Bubble Bump activities can help your employees to step out of their comfort zone. Our signature games, Bubble Bump soccer and Bubble Bump Invasion encourages a lot of communication, coordination and strategizing and team work amongst team members.
Bubble bump soccer- A normal soccer game but with Bubble suits on! With these huge bubble suits, it makes it more challenging to score a goal because you'll be bothered by your opponent-they'll be constantly bumping you to prevent you from getting the ball. This game would be filled with so much laughter that you'd probably get stomachache from laughing too much!
Bubble Bump invasion- Each team, red and blue team will have their own territory and the objective of this game is to invade your opponent's territory. The team who gets all their members into their opponent's territory first wins the game! So before the game starts, team members will be given a good minute to strategize- attack the weakest one for instance! A lot of communication and strategizing is needed to win the game.
I'm sure after a good Bubble Bump session it would foster a stronger bond between colleagues ☺ and most importantly, your team will have fun!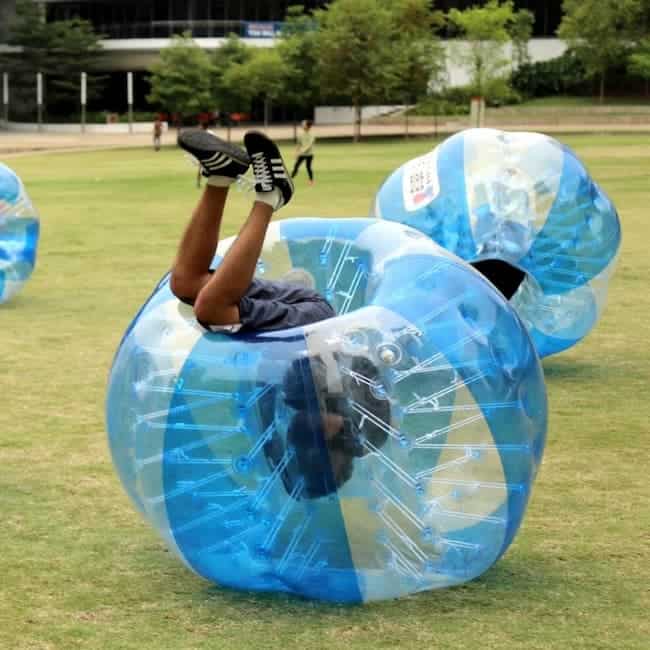 To book a session with us, simply call us at 6515 4146 or visit out website www.bubblebump.sg for more information.