It's mid-week, so hang in there, working and schooling people! Truth be told, Team Bubble Bump is enjoying every single day at work and in this blog post you will find out one of the many reasons why 😀
Team Bubble Bump is one big happy family. We always celebrate success and face challenges together as a team, and that makes us feel even closer. (Did we mention that our awesome Bubble Bump games require a lot of team work?)
Besides the supportive work culture at Bubble Bump Singapore, we owe a BIG THANK YOU to all our clients and fans who keep us going. We have been receiving emails of compliments and encouragements after events. Awwww, so much love, really :') It is incredibly heart-warming to know that you guys appreciate the fun that Bubble Bump Singapore has brought to you. It is clients and supporters like you that makes the Bubble Bump team want to continue improving to serve you even better.
To all you lovely people who want to show some love to the Bubble Bump team, simply head over to our Facebook page and write us a review or give us a 5☆ rating so the world will know about your wonderful Bubble Bump experience. The pleasure is all ours though, heh. Bubble Bump Singapore wishes to keep in touch with you even after the game, just because we love fun-loving people and we want you to be the first to know about our new games and promotions!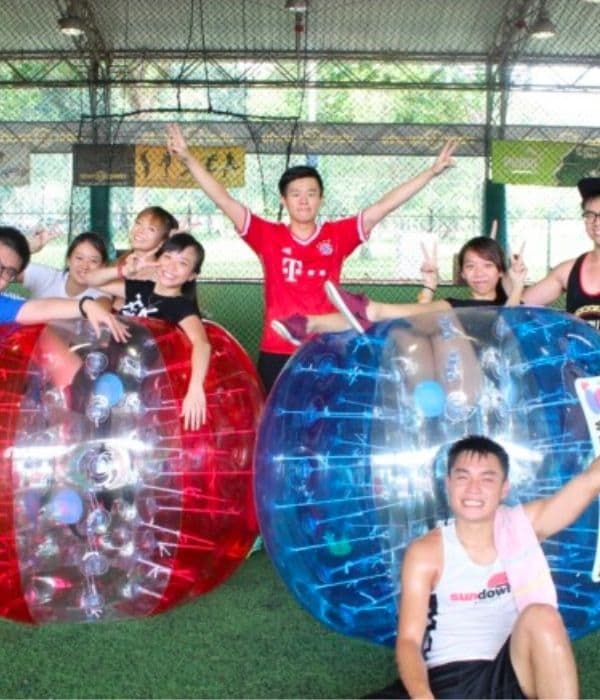 Bubble Bump SG is the official and largest soccer bubble provider in Singapore, and we have hosted over 500 Bubble Bump events to date. Our success would not have been possible without your continuous support. So once again, thank you and we look forward to serving you better. Contact us for a Bubble Bump session to experience the goodness for yourself today!