Had a blast hosting our friends at Garena for a Bubble Soccer Singapore Team Bonding Event! Bubble Soccer SingaporSoccer Singapore
There were a total of 12 teams, 5 members each, and everyone was all pumped up to battled it out! Bubble Soccer Singapore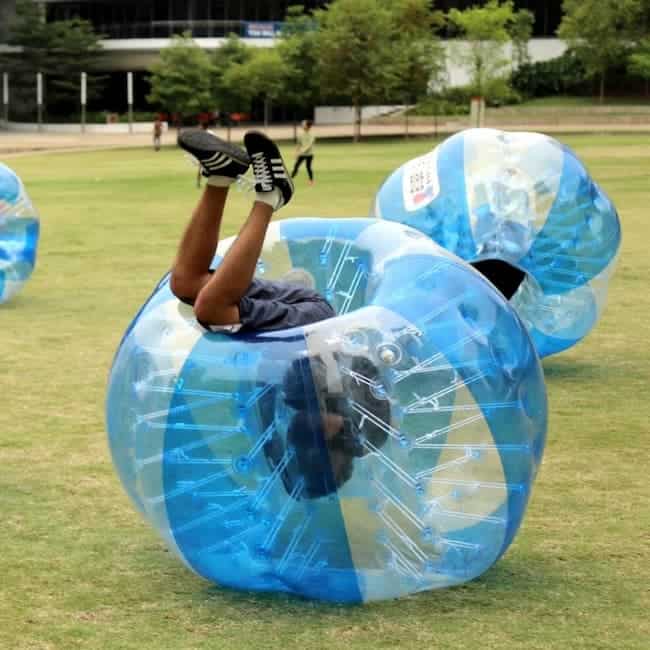 For more videos and pictures, please visit our facebook page: www.facebook.com/bubblebumpsg Bubble Soccer Singapore
The atmosphere was ecstatic as friends and colleges start bumping one another. Some people even went topsy turvy! It was hilarious seeing everyone falling like Humpty Dumpty.
We are also glad that Matthew from the popular YouTube Channel, Wah!Banana could join us! He thoroughly enjoyed himself, and had no mercy when it comes to bumping his colleges.
The mini Bubble Soccer Singapore tournament culminated to an epic final when both teams drew at the sound of the whistle. It came down to penalty shoot out and the crowd went bonkers when the Champion Team finally scored the golden goal.
Bubble Bump SG had an awesome time hosting Garena! If your company is looking for a fun, novel and safe way to promote team building within your organization, Bubble Soccer Singapore by Bubble Bump SG is the activity for you! Play Bubble Soccer Singapore with your colleges now! Bubble Soccer Singapore
You can book your Bubble Soccer Singapore games at www.bubblebump.sg Bubble Soccer Singapore
See you there! Bubble Soccer Singapore Bubble Soccer Singapore Bubble Soccer Singapore Bubble Soccer Singapore Bubble Soccer Singapore Bubble Soccer Singapore Bubble Soccer Singapore